A roundup of CHROs and TA leaders share best-in-class D&I strategies.
By Debbie Bolla
The recent #MeToo movement shined a spotlight on the mistreatment of women and minorities in all realms of society, and the workplace was no exception. As cases continue to make headlines, they encourage organizations to rethink their polices and practices, with HR leading the charge to change. This crusade for fairness among all workers is clearly connected to an organization's diversity and inclusion (D&I) strategy.
Bias in candidate screening remains a major obstacle to diversity, but AI-enabled technology can help.
By Marta Chmielowicz
The world economy is growing and diversity is growing with it. According to the U.S. Census, more than half of all Americans are projected to belong to a minority group by 2044—and this will have a major impact on labor market demographics. The Bureau of Labor Statistics reports that the percentage of Hispanics in the workforce is expected to almost double by 2060 while the percentage of whites is expected to decrease by nearly 20 percent. In addition, rising labor participation rates among women, increasing numbers of millennials in the workplace, and continued growth of immigration are all making diversity a critical business consideration.
Find out the key takeaways from this year's top sessions.
By Marta Chmielowicz
This year's HRO Today Forum was jam-packed full of best practices, engaging conversations, and valuable insights that will continue to deliver in the coming year. Here are some highlights from a few of the standout sessions:
Ericsson is creating a culture of success with their values-based recognition program.
By Marta Chmielowicz
What does a company stand for? What principles does it embody? How do its products and services contribute to the world? These are some of the key questions that are typically addressed in a core values statement. Values statements are meant to form the very fabric of an organization, guiding its every belief and decision.
Unconscious bias plagues hiring decisions, employee growth, productivity, and retention. Here are six strategies that help eliminate it.
By Michele McDermott
Unconscious biases are social stereotypes about certain groups of people that are formed outside conscious awareness. Often, backgrounds, experiences, societal stereotypes, and cultural context can impact people's decisions and actions without them even realizing it. Brains make incredibly quick judgments and assessments of people and situations. This is also referred to as a "mental blind spot."
Looking to track and improve employee engagement? Look no further.
By The Editors
HRO Today has been tracking the top HR service partners for more than 10 years. In the magazine's 2017 Reader's Survey, the number one requested HR service partner listing was employee engagement. Through the research and editorial teams, here is a list of the top employee engagement providers and their services. They are listed in alphabetical order.
Click here to get a glimpse into the 2018 HRO Today Forum North America.
Experts offer best practices for executing a more inclusive relocation strategy.
By Marta Chmielowicz
Molly is an experienced sales manager at a company that is expanding its operations to India.
She is a single mother of two children—one of whom has special needs and requires therapy and tutoring. The new location has an opening for a regional sales manager, but she feels she is overlooked due to her complex family situation.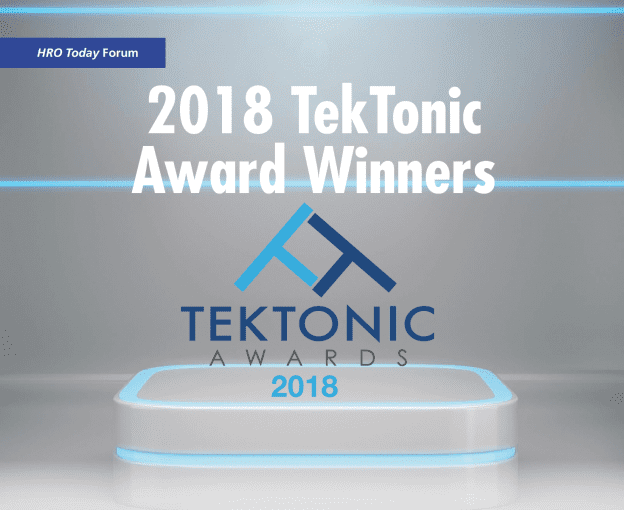 Meet five game-changers that are staying ahead of the HR technology curve.
By Taylor Thompson
With the rise of artificial intelligence (AI) and robotic process automation, HR has faced a year of adaptation and innovation in their business practices in order to keep up with a rapidly changing field. Technology has not only become an integral part of everyday HR processes, but an expectation, especially in regards to organizations' recruitment efforts. But what makes a company stand out among others in an ever-changing industry, especially considering all the newfound technology blazing the trail? Innovation. Disruption. And a solution that works to make life just a little easier for HR. These are just a few of the ways this year's TekTonic Awards winners have continued to advance their efforts and drive the industry forward, and the reason they were recognized at this year's HRO Today Forum in May. The 2018 TekTonic Awards winners have been recognized for their innovative contributions in workforce management, background screening, talent management, candidate experience, mobile capabilities, and learning.
The biggest challenge to blockchain adoption is finding highly skilled workers.
By Monique Black
Blockchain is radically changing the world as we know it. The technology, best known for its role in recording Bitcoin transactions, is an encrypted digital network of information that is organized into groups of data called "blocks" and easily accessed by everyone in a "chain." Blockchain provides an efficient and secure way to store and share personal data, creating an infrastructure of trust that will impact personal lives, business, and government across the globe.
© 2009 - 2021 Copyright SharedXpertise Media, LLC.
All SharedXpertise Media logos and marks as well as all other proprietary materials depicted herein are the property of SharedXpertise Media. All rights reserved.
SharedXpertise Media, LLC, 123 South Broad Street, Philadelphia, PA 19123