The complexity of pre-employment screening and the associated technologies that drive it have changed radically during the past decade. However, the problem is that the largest providers and the investment engines, such as private equity who backed them in the first round of development and the second round of adaptation, have not been persuaded or incented to make new rounds of investments in rebuilding legacy systems.
At best, this situation represents a missed opportunity. At worst, it risks a world in which employers will suffer declining compliance and worsening performance. As is often the case, these legacy provider platforms and practices present the most significant obstacle
to change.
Instead, we need a profound rethinking of the market's arrangements and expectations. To equip today's employers with the speed and scale necessary to renovate and invigorate hiring background screening technological systems, providers need more than an investment engine.
Screening tech innovations are improving speed, trust, transparency, and ultimately, the candidate experience.
By Marta Chmielowicz
With record numbers of millennials and Generation Z job candidates entering the workforce, employers are reconsidering their long-held hiring practices in order to attract and retain best-fit talent. Candidate experience is now one of the hottest topics in hiring, with organizations striving to illustrate their brand from their very first interactions with potential candidates. In fact, the State of Employer Branding survey by Jibe indicates that 95 percent of HR professionals feel that their brand is impacted by candidate experience.
Experts offer strategies to help navigate the complex landscape of marijuana legalization and workforce safety.
By Marta Chmielowicz
There is more public support for marijuana law reform than ever before, with Pew Research Center reporting that 62 percent of Americans are in favor of marijuana legalization. And the legislative landscape is constantly changing—33 states have legalized medical marijuana and 10 states, along with Washington D.C., have legalized its recreational use. But it is still classified as a Schedule I drug, or a substance with high potential for abuse and no currently accepted medical use, under federal law. This contradictory legislation is creating a conundrum for organizations that have embraced strict drug-free workplace policies.
By Elliot H. Clark
On February 15, 2019, a terminated employee at the Henry Pratt Company in Aurora, Illinois, shot and killed the company's HR manager, Clayton Parks, and an HR intern, Trevor Wehner, who had begun his internship that morning. A very tragic moment in a long line of tragic moments of unrestrained violence in a seemingly civilized world that has too many of these uncivilized incidents.
To be sure, there are numerous questions about why and how an illegally retained handgun was used. It is not the place of HRO Today to talk about the political issues of gun legislation, or in this case, existing firearms law enforcement. It is our place to ask: When HR is a target, how do we protect each other?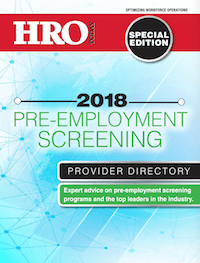 A consistent background screening approach is critical when hiring contingent workers.
By Marta Chmielowicz
With talent emerging as a top competitive differentiator, organizations are turning to non-traditional sources in order to secure the skillsets required for business growth, development, and agility. And the proof is in the numbers: Ardent Partners' The State of Contingent Workforce Management 2017-2018 study found that 40 percent of today's global workforce is comprised of non-employee talent, including independent contractors, freelancers, consultants, and temporary workers. These workers play a critical role in the way business is done, with HR professionals leveraging contingent labor to become more agile (71 percent) and fill critical skill gaps (54 percent).
Organizations need to ensure staffing companies are properly screening contingent workers.
By Marta Chmielowicz
Screening new employees is not only a smart business move—it is a necessity. Regardless of whether a job candidate is applying for a full-time, temporary, or contract role, business owners need to implement a robust and efficient background screening process that protects the company and its employees. After all, temporary workers often receive the same access to company resources, customers, and sensitive information as permanent employees, so gaps in the background check process could pose serious risks to company reputation, culture, and even safety.
VP of HR Doug Harris shares how Clean Harbors is benefiting from its new pre-employment screening approach.
By Debbie Bolla
When you are in the business of removing some of the most hazardous materials in the world, there is no room for error when it comes to hiring nearly 5,000 employees a year. Nobody knows this better than Clean Harbors, North America's leading provider of environmental and energy services responsible for end-to-end hazardous waste management, emergency spill response, industrial cleaning and maintenance, and recycling services. The organization is also the largest re-refiner and recycler of used oil in the United States. Critical to ensuring the company is hiring the right workers to meet stringent compliance standards is a thorough background screening process.
View the results of this year's Baker's Dozen ranking.
By The Editors
HRO Today's Baker's Dozen Customer Satisfaction Ratings are based solely on feedback from buyers of the rated services; the ratings are not based on the opinion of the HRO Today staff. We collect feedback annually through an online survey, which we distribute to buyers directly through our own mailing lists and indirectly through service providers. Once collected, response data for all providers with a statistically significant sample size are loaded into the HRO Today database for analysis.
© 2009 - 2019 Copyright SharedXpertise Media, LLC.
All SharedXpertise Media logos and marks as well as all other proprietary materials depicted herein are the property of SharedXpertise Media. All rights reserved.
SharedXpertise Media, LLC, 123 South Broad Street, Philadelphia, PA 19123