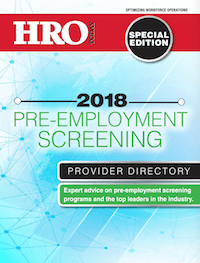 A consistent background screening approach is critical when hiring contingent workers.
By Marta Chmielowicz
With talent emerging as a top competitive differentiator, organizations are turning to non-traditional sources in order to secure the skillsets required for business growth, development, and agility. And the proof is in the numbers: Ardent Partners' The State of Contingent Workforce Management 2017-2018 study found that 40 percent of today's global workforce is comprised of non-employee talent, including independent contractors, freelancers, consultants, and temporary workers. These workers play a critical role in the way business is done, with HR professionals leveraging contingent labor to become more agile (71 percent) and fill critical skill gaps (54 percent).
Organizations need to ensure staffing companies are properly screening contingent workers.
By Marta Chmielowicz
Screening new employees is not only a smart business move—it is a necessity. Regardless of whether a job candidate is applying for a full-time, temporary, or contract role, business owners need to implement a robust and efficient background screening process that protects the company and its employees. After all, temporary workers often receive the same access to company resources, customers, and sensitive information as permanent employees, so gaps in the background check process could pose serious risks to company reputation, culture, and even safety.
VP of HR Doug Harris shares how Clean Harbors is benefiting from its new pre-employment screening approach.
By Debbie Bolla
When you are in the business of removing some of the most hazardous materials in the world, there is no room for error when it comes to hiring nearly 5,000 employees a year. Nobody knows this better than Clean Harbors, North America's leading provider of environmental and energy services responsible for end-to-end hazardous waste management, emergency spill response, industrial cleaning and maintenance, and recycling services. The organization is also the largest re-refiner and recycler of used oil in the United States. Critical to ensuring the company is hiring the right workers to meet stringent compliance standards is a thorough background screening process.
View the results of this year's Baker's Dozen ranking.
By The Editors
HRO Today's Baker's Dozen Customer Satisfaction Ratings are based solely on feedback from buyers of the rated services; the ratings are not based on the opinion of the HRO Today staff. We collect feedback annually through an online survey, which we distribute to buyers directly through our own mailing lists and indirectly through service providers. Once collected, response data for all providers with a statistically significant sample size are loaded into the HRO Today database for analysis.
Criminal records are keeping millions of people out of the workforce but new policies are closing the divide.
By Marta Chmielowicz
77 million. According to the Bureau of Justice Statistics, that's the number of American adults who have a criminal record—one in three.
© 2009 - 2019 Copyright SharedXpertise Media, LLC.
All SharedXpertise Media logos and marks as well as all other proprietary materials depicted herein are the property of SharedXpertise Media. All rights reserved.
SharedXpertise Media, LLC, 123 South Broad Street, Philadelphia, PA 19123