New tech tools can help HR improve hiring processes.
By Michael Switow Before he joined Allegis Global Solutions, Paul Martin applied for a job at an Australian bank. He thought he was more than qualified for the role, but months went by without any word from the company. After four months, Martin received an automated email stating that he did not get the role. As an HR professional, he understood the requisition was closed and that companies use automated technologies to reply to applicants. But the fact that a formatted letter was the only communication he received left a bitter aftertaste. In contrast, Martin had a much different experience when he recently went shopping to replace one his favourite messenger bags, a Crumpler "Barney Rustle Blanket." At the store, the clerk informed him that the 14-year-old bag had a lifetime guarantee. He simply had to provide an email address and leave the bag with them. Soon the correspondence began. "Hi Paul, Just an update on an old friend.
A trio of strategies organisations can leverage to attract top talent.
By Michael Switow Most HR professionals say that it's harder to recruit candidates now than it was a year ago. In fact, the two issues most likely to keep HR leaders up at night, according to a global survey commissioned by Korn Ferry Futurestep, are quality of hire and competition for talent. At the same time, the single most important factor driving talent to choose a company—more significant than money or even career progression—is corporate culture. Is the company inclusive? Does it focus on employees? What about the candidate experience during recruitment and onboarding? "If candidates are gold and we know how hard it is to find really fantastic people for the jobs that you need, not only for today, but also for what your business needs tomorrow, why don't we treat them like gold?" says Sue Campbell, managing director for Asia for
Korn Ferry Futurestep
.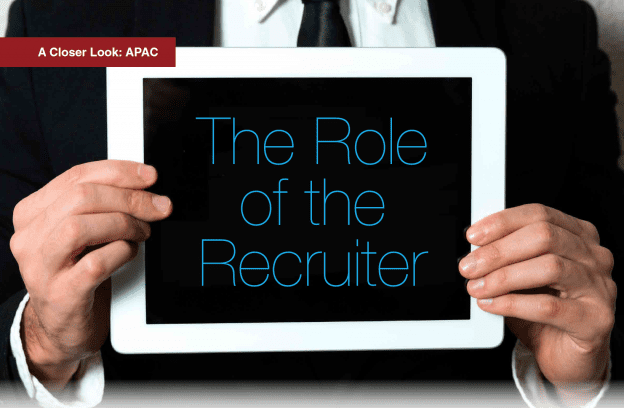 Three trends impacting how HR teams approach talent acquisition.
By Michael Switow Set against a backdrop of a global war for talent—and leveraging 21st century tools such as smart data, targeted communication, machine learning, and gamification—talent acquisition teams increasingly customise the candidate experience in order to create more successful outcomes.
PeopleScout
's Australia/New Zealand Managing Director Nicole Cook believes that digitisation affects the entire process of talent acquisition, from branding through requisition, sourcing, screening, selection, and hiring. "When you think about talent acquisition and human resources, for years we've been saying, 'This is what I want,' and then predicting the people who are going to succeed based on profiles already in the business," Cook explains. "Now technology has caught up [and can] say, 'I'm going to tell you: this is who you want.' The trick with machine learning and artificial intelligence is that it's [continually] learning and refining.
CHROs and industry experts share their insight on what 2018 holds for HR.
By Audrey Roth In the coming year, constantly evolving technology and the growing demands to attract, retain, and engage talent will cause dynamic change in the HR industry. HR leaders must be prepared to face the challenges of a year of transformation. The last few decades have seen a steady climb of increased use of cloud-based HR systems, but in 2018, expect to see nearing full adoption of this technology. According to PwC's
2017 Human Resource Technology Survey
, 68 percent of organizations had at least one HR process in the cloud two years ago. In 2017, that number has climbed to 73 percent, with nearly 40 percent having their core applications in the cloud. In 2018, expect a further push toward an employee experience that mirrors consumer experience. "Flexible, easy, personalized, intuitive, slick, and mobile-first," says Dave Almeda, chief people officer of
Continue reading →
By Taylor Thompson With Glassdoor reporting that the average job opening attracts 250 resumes, it's hard to believe that 65 percent of recruiters, according to Jobvite, report their biggest challenge in hiring as a shortage of available talent. So why are talent acquisition teams struggling to manage candidates? Many applicants may just be unqualified. However, when it comes to filling open positions within their organizations, talent acquisition and recruitment marketing teams often fail to access an entire hub of data readily available to them: their past applicants.
Beamery
, a candidate-relationship software company, claims that the key to hiring candidates is not just forwarding available jobs, but building valuable employer-candidate relationships prior to the application process. That's why with the launch of their company in 2014, their offices are already expanding to three major European and American cities and their clientele includes big-name companies like Facebook and VMWare.
By Marta Chmielowicz The gig economy is exploding, but are companies truly embracing the diversity of their new workforce? For many, the answer is no. According to Ardent Partners'
2016-2017 State of Contingent Workforce Management
report, nearly 38 percent of the world's total workforce is now considered "non-employee," but only 63 percent of organizations are reshaping how work is done across the numerous talent sources in their enterprise. Without a unified talent acquisition solution to help manage the different types of workers in today's world, companies may be missing out on the best-fit talent for their needs. "By taking a more extensive view of their workforce and embracing a truly blended working population, companies can exercise more flexibility and adapt more easily to alternative ways of working to secure the talent in the right place and the right time to meet their needs," says Kate Heath, global head of RPO, partners and alliances at
Continue reading →
Five trends set to impact recruiting and leadership in 2018.
By Jamie Hoobanoff Businesses of all sizes and in all sectors are entering uncharted territory as they face an unprecedented rate of economic, technological, and societal change. While industries have gone through disruptions in the past, the forces at work in more recent years are rapidly shifting, calling for companies to be even more adaptive and innovative in their approach to recruitment and hiring. According to the recent online survey
Future-Proof Your Business
by the Business Development Bank of Canada, more than half of the respondents strongly agreed that recruiting skilled staff is crucial for business success. The typical organizational chart no longer works in today's business environment. Hierarchal leadership and longevity are no longer givens, with the average tenure of a leader lasting only two years. Organizations are becoming flatter, leaner, and more nimble, and unpredictability in the workplace—and the world at large—has become the norm.
HR can expect transformation in every sector in 2018.
By Amy L. Gurchensky HR partnerships and engagements have remained in a stable state of predictability for years, but changes within the business landscape are now occurring at an increasingly accelerated pace. Organizations are experiencing industrywide transformation, and HR services are being forced to respond. This reaction is yielding great innovation which is happening at a fast rate. This is also driving the need for transparency and investments in technology across all HR functions. Based on research and this year's activity, there are key developments within each HR sector from 2017, and a roundup of trends for 2018.
Payroll
In payroll, the focus is on technology first and services second. By the end of 2017, approximately 80 percent of payroll service contracts will be delivered on cloud systems. Cloud adoption is also beginning to move downstream to the small- to medium-sized enterprise market.
HR can get ahead of the hiring curve by leveraging the latest in technology.
By Christa Elliot HR departments have more tools at their disposal for ramping up recruitment and hiring than ever before, and technology plays a huge part in keeping the industry current. In 2017, the push toward a 100-percent-digital hiring model is a consideration as mobile and cloud- based solutions continue to gain popularity. A desire to attract top candidates and have them view organizations and their brands as on the cutting edge are at the heart of these trends, and RPO partners are helping lead the charge. For Patricia Tourigny, senior vice president of HR shared services at
Magellan Health
, this process involves letting automation take care of the details so that recruiters have more time to focus on the candidates. "At Magellan, we are working to automate as many manual processes as we can and leverage a variety of digital and social channels so our recruiters can
focus on recruitment basics: building and maintaining relationships with the external market and influencing our hiring decisions so we can onboard the best possible talent.
Find out how RPA and AI will potentially impact the workforce and how to make the most of these tools
By Brad Peterson By offering the prospect of better service quality at a faster rate and lower cost, robotic process automation (RPA) and artificial intelligence (AI) promise to radically transform human resources and services. So what are RPA and AI?
AI involves sophisticated pattern-matching software designed for specialized tasks. The pattern-matching software "learns" from sample data and can be "trained" by providing it with the right data. AI has a long history but is becoming practical for HR because of improvements in processing power and algorithms.
RPA does not actually involve robots, but is a software that mimics a human user. So to a software application or cloud-based system, an RPA "robot" appears to
be a human user. RPA can partially or fully automate processes that are manual, repetitive, and rule-based. Lucky for HR practitioners, a substantial part of recruiting and hiring processes fit that description.
© 2009 - 2018 Copyright SharedXpertise Media, LLC.
All SharedXpertise Media logos and marks as well as all other proprietary materials depicted herein are the property of SharedXpertise Media. All rights reserved.
SharedXpertise Media, LLC, 123 South Broad Street, Philadelphia, PA 19123