Philadelphia, PA – December 6, 2018 – SharedXpertise, publisher of HRO Today Magazine, and Alexander Mann Solutions, one of the world's leading providers of talent acquisition and management services, have partnered to release the Human Resources New Technology Quarterly Summary: Q3 2018.
As the rate of advancement in the human capital management (HCM) technology sector increases, these quarterly reports track and summarize trends, funding initiatives and other activities related product innovation in HR.  The reports provide critical insights into new technology, its applications and the companies leading the HCM technology industry.
During the third quarter of 2018, 49 major announcements in HR technologies were made, down slightly from the 57 documented in the second quarter.  Mobile capabilities, artificial intelligence (AI), and platforms that facilitate communication between employers and employees/candidates continued to have high levels of development.  Interest in AI has remained strong all year, which has many companies exploring how to prepare for the inevitable digital transformation.
Devon, PA – December 3, 2018 – L2 Capital Partners, L.P. ("L2" or "L2 Capital") and Lakewood Capital, LLC ("Lakewood") announced the acquisition of Orion ICS, LLC ("Orion Talent") and its wholly owned subsidiary Novotus, LLC ("Orion Novotus" and with Orion Talent, collectively, "Orion" or the "Company"), together, a leading human capital management platform offering a unique combination of military, skilled professional, and Recruitment Process Outsourcing ("RPO") solutions. The Company is comprised of a core military hiring capability in Orion Talent and award-winning RPO services through Orion Novotus, thereby creating a unique end-to-end talent acquisition and recruitment process solution.
Founded in 1991, Orion Talent (www.oriontalent.com) has found careers for over 43,000 veterans and operates from offices located throughout the nation. In 2016, the Company expanded its service offerings by acquiring Novotus, now Orion Novotus (www.orion-novotus.com), a full-service RPO provider. The acquisition combined one of the largest military talent placement firms in the country with an award-winning RPO capability. In turn, the consolidated enterprise created a platform for evolution into a global full-service enterprise talent management and recruiting firm.
Michael Starich, Chief Executive Officer of Orion, noted, "Our new partnership with L2 and Lakewood is a critical step in Orion's path as we expand the scope of our operations. We think of Orion as not just a business – but a mission. And with the support of L2 and Lakewood in delivering on that mission, we are well on our way to becoming a global leader in recruiting excellence."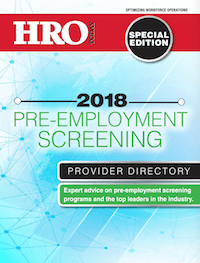 A consistent background screening approach is critical when hiring contingent workers.
By Marta Chmielowicz
With talent emerging as a top competitive differentiator, organizations are turning to non-traditional sources in order to secure the skillsets required for business growth, development, and agility. And the proof is in the numbers: Ardent Partners' The State of Contingent Workforce Management 2017-2018 study found that 40 percent of today's global workforce is comprised of non-employee talent, including independent contractors, freelancers, consultants, and temporary workers. These workers play a critical role in the way business is done, with HR professionals leveraging contingent labor to become more agile (71 percent) and fill critical skill gaps (54 percent).
Organizations need to ensure staffing companies are properly screening contingent workers.
By Marta Chmielowicz
Screening new employees is not only a smart business move—it is a necessity. Regardless of whether a job candidate is applying for a full-time, temporary, or contract role, business owners need to implement a robust and efficient background screening process that protects the company and its employees. After all, temporary workers often receive the same access to company resources, customers, and sensitive information as permanent employees, so gaps in the background check process could pose serious risks to company reputation, culture, and even safety.
What role do providers and HR practitioners have in the process of innovation?
Innovations in artificial intelligence and analytics, along with development in cloud, social and mobile technologies, are making HR systems more intelligent and more engaging. In fact, research shows that for just the first three quarters of 2018, there have been over 125 significant product announcements worldwide in the industry.
But with the growth of so many systems and new tools for recruitment, talent management, performance management, engagement, training, and more, are providers offering innovation that HR practitioners want or even use? Or are systems becoming increasingly too complex and more focused on gadgets and buttons than workflow capacity innovation?
What technological advancements and news happened during the third quarter of 2018?
The rate of advancement in the human capital management (HCM) technology sector has been increasing exponentially. In order to track the players and their innovations, HRO Today and Alexander Mann Solutions have partnered to release quarterly reports that summarize trends, funding initiatives and other activities that support product innovation in HR.
During the third quarter of 2018, 49 major announcements in HR technologies were made, down slightly from the 57 recorded in Q2. The majority of these announcements (34) came out of North America, with 10 from EMEA and 5 from APAC. While many of these announcements were related to funding for technology start-ups or other small organizations, larger companies, such as ADP and CareerBuilder, made moves as well.
CSS's service offerings, advanced knowledge base and customer service excellence directly contributed to being rated as one of the best providers in the industry.
November 19, 2018 – Gibbsboro, NJ – For the third consecutive year, CSS Inc. has been recognized as the industry's elite in employee screening by HRO Today Magazine.  Listed on the 2018 Baker's Dozen Customer Satisfaction Ratings for Pre-Employment Screening, this ranking supports the hard work and dedication CSS employees put forward to create intelligent solutions catered to the unique needs of their Customers.
According to a survey commissioned by the National Association of Professional Background Screeners, 96% of surveyed organizations conduct background checks, with more and more companies recognizing the benefits of working with an accredited, highly acclaimed provider and realizing the cost and process efficiencies in consolidating all screening services through one provider.  CSS's commitment to its Customers, innovative processes, and technological advances surpass competitors in the screening industry and are the reasons why many companies are choosing CSS as their sole provider.
© 2009 - 2018 Copyright SharedXpertise Media, LLC.
All SharedXpertise Media logos and marks as well as all other proprietary materials depicted herein are the property of SharedXpertise Media. All rights reserved.
SharedXpertise Media, LLC, 123 South Broad Street, Philadelphia, PA 19123